HyConnect – Ressourcenminimale Fertigung durch hybride und hochvernetzte Prozesse
Head
Researcher
Funding period:
Start: 1. November 2020
Ende: 31. October 2023
Abstract
Consistent lightweight construction realized through high-performance and resource-efficient manufacturing processes represents a key technology for securing long-term competitiveness of the German industry while simultaneously reducing CO2 emissions. By combining individual production technologies new opportunities are created, allowing the overcoming of limits that are currently set by conventional processes. HyConnect aims to combine forming technology with additive manufacturing in order to enhance the advantages of both process classes and to replace previous energy-intensive manufacturing methods (see Figure). In addition, digital solutions for a cross-company exchange and analysis of production data are being implemented, researched and evaluated. These are necessary to realize both the before described technical as well as environmentally added values and ensure that the safety requirements of the participating companies are met.
Within this project, the aim is to expand the existing fundamental knowledge of hybrid component manufacturing by combining laser metal deposition (LMD) and deep drawing. Interactions between the individual processes as well as influences resulting from the production sequence stand in the foreground of upcoming investigations. With the support of the below listed project partners, an exemplary bearing sleeve is planned to be manufactured with reduced material resources and CO2 emissions.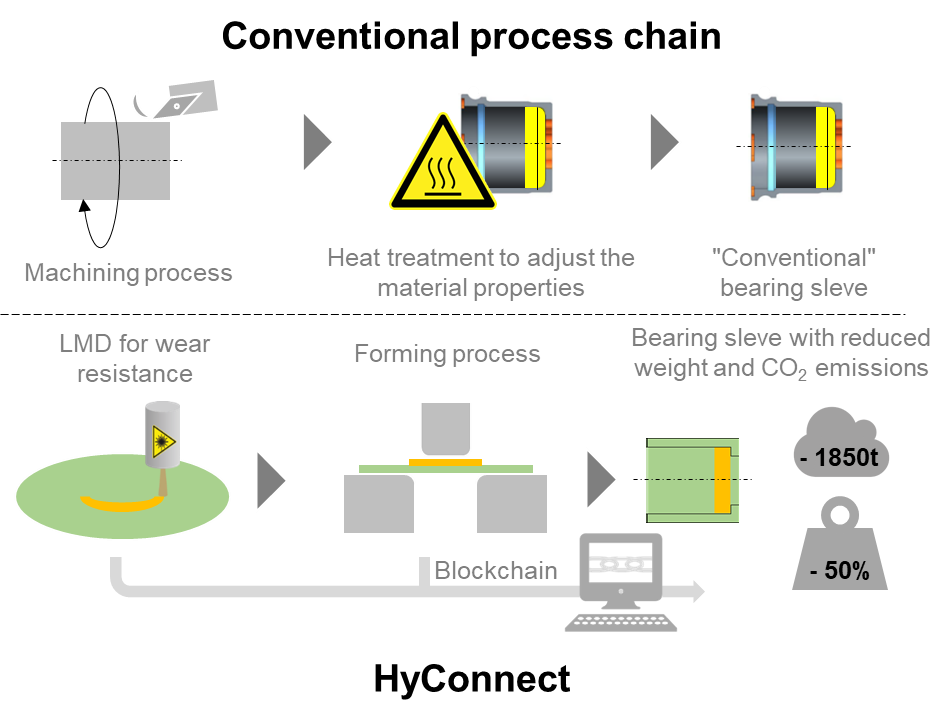 Research groups
Publications
2023

Directed Energy Deposition of Low-Alloyed Steels: An Insight on Microstructural and Mechanical Properties
In: Steel Research International (

2023

), p.

2200925




ISSN: 1611-3683


DOI: 10.1002/srin.202200925
, , , , , , :

Hybrid process chains combining metal additive manufacturing and forming – A review
In: CIRP Journal of Manufacturing Science and Technology (

2023

), p.

98-115




ISSN: 1755-5817


DOI: 10.1016/j.cirpj.2023.08.002
URL: https://www.sciencedirect.com/science/article/pii/S1755581723001220
, , , , , , :

Numerical investigation on the deep drawing of sheet metals with an additively applied coating


The 26th International ESAFORM Conference on Material Forming

(

Kraków

,

19. April 2023

-

21. April 2023

)
In:

Lukasz Madej, Mateusz Sitko, Konrad Perzynsk (ed.):

Material Forming

2023


DOI: 10.21741/9781644902479-100
, , , , :